Villa Layout
Guests enter Anucara via a stepping-stone avenue over a large, clear-water pond where two huge overflowing urns provide the soothing sounds of falling water.
Floor-to-ceiling sliding glass doors run the length of the villa, removing all possibility of secrets; the state-of-the-art living areas, gardens, and swimming pool simply rush in to say hello. To the right is the formal dining area and kitchen; to the left, a comfortable lounge.
Upstairs, the two super-chic master bedrooms are mirror images of each other; each with a sea view balcony. Outside, the garden is dominated by a 35-metre infinity pool flanked by an alfresco dining space and a sunken pool bar/lounge, above which a rooftop terrace provides the ideal spot for relaxed sundowners. Continuing down through the gardens, three stand-alone bedroom suites are beautifully integrated into the greens and whites of the landscape and are aligned in such a way as to provide guests with a sense of autonomy and privacy.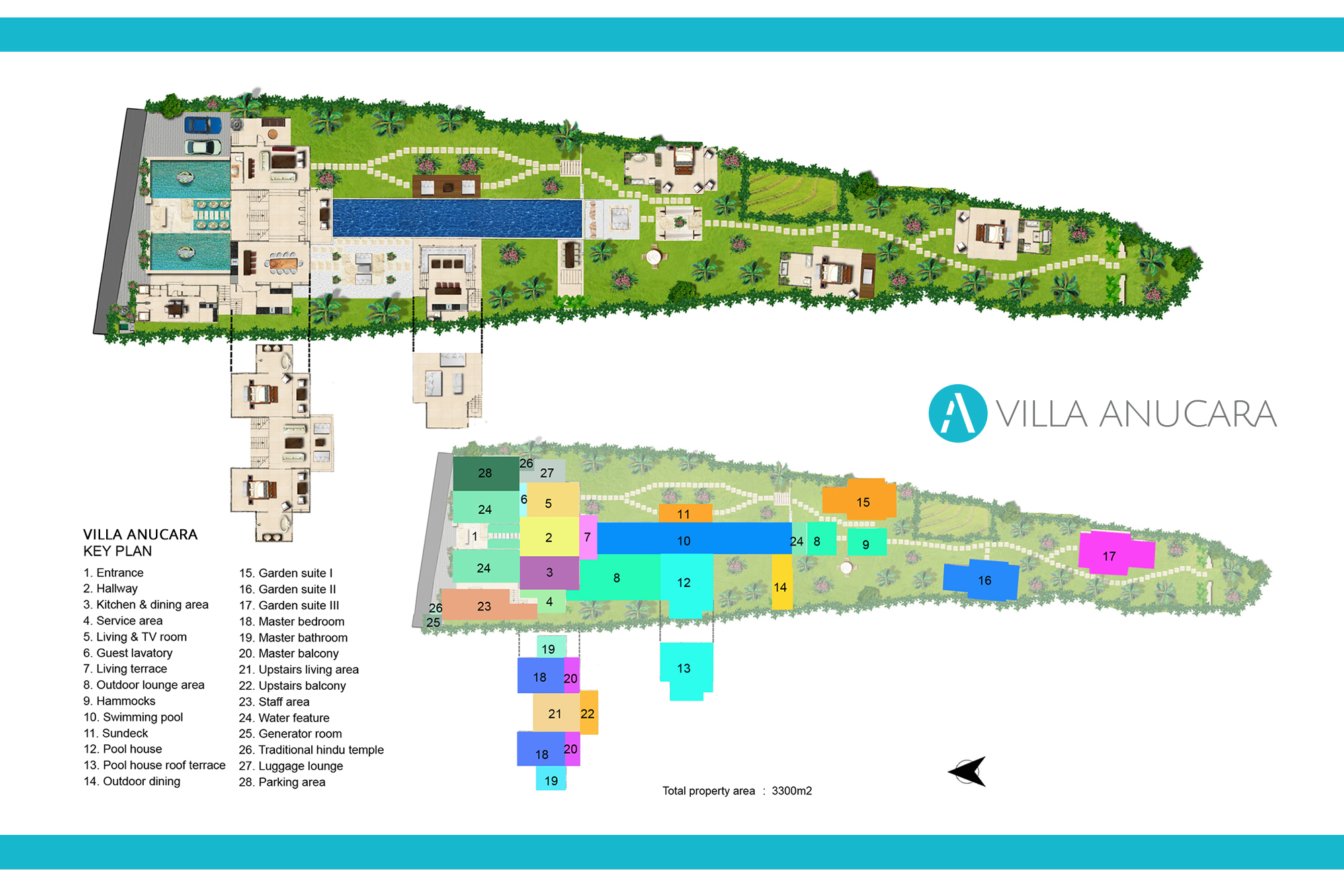 Download in high resolution
Living Areas
INDOOR LIVING
In Villa Anucara's main pavilion an air-conditioned white and blue themed living room is furnished with two comfy sofas and chairs and an antique coffee table all set before a 46-inch TV with satellite channels and a Blu-Ray disc player. Antique wooden artefacts and a Balinese gong adorn the room and sliding glass doors lead out from here to the garden. 
Separated from the living area by the grand central foyer, the dining room and kitchen are dominated by a long and beautiful suar wood table with seating for ten, lit by three hanging lanterns with huge woven bamboo shades.  A montage of aqua images embellish the walls alongside tribal shields from Papua.  Floor-to-ceiling glass doors at one end of the dining area provide garden views and lead out to the pool and terrace.
The villa has an enviable, air conditioned, feature kitchen that's almost over-equipped with serious brand-name appliances.  Characterised by a wall of rough-cut marble mosaic and polished concrete work surfaces, the kitchen includes a massive central island lit by three hanging lanterns and accompanied by four wooden bar stools.
OUTDOOR LIVING
The very sociably situated sunken poolside lounge is sure to see a lion's share of daytime activity. Open on three sides, it features a kitchen area and guest washroom, a wooden bar, antique Indonesian daybeds that serve as tables, bar stools, and wide, built-in sofas with enough seating room for a small army. Above, on the rooftop terrace, daybeds beckon for sunbathing and sunset cocktails.
An alfresco dining area sits to the right of the pool between the sunken lounge and a patio area lined with river stones and furnished with two all-weather couches. A ten-seater dining table provides a lovely spot to enjoy dinner after the heat of the day has subsided.
The villa's mature garden stretches for what feels like forever, changing its characteristics as it meanders past the pool and the guest bedrooms towards the property's boundary. Poolside, sun loungers and two double daybeds are positioned next to mature frangipanis, palms and lilies that pepper the lawns. At the far end of the 35-metre pool the water overflows down a three metre cascade to a smaller pool fronted by two Ganesha (elephant god) statues. Beyond, a 'wild' garden of ornamental grasses and white flowering shrubs eventually gives way to a small 'enchanted forest' of palm trees and silence.
Bedrooms
Master bedrooms 1 & 2
Anucara's two master bedrooms are located upstairs in the main building and are both as sleek and sexy as each other. Lined with huge blow up images from the owner's travels around Indonesia, each bedroom has white linens, hardwood floors, a high-pitched ceiling and wide views of the ocean from not only the king-size bed and the stone-paved balcony, but from the bathtub and shower as well. The bathrooms carry a nautical theme of seahorse and starfish-shaped fittings to complement the ever-present sight of the ocean. To the rear of each bedroom, a spacious dressing areas faces away from the sea and yields to rice fields and a volcanic horizon.
In the antechamber between the master bedrooms is a large sitting area with two white painted daybeds and a wooden table under a translucent white skylight. Glass doors open out to a furnished stone terrace with ocean and garden views.
Guest bedroom 1
Guest bedroom 1 is situated in the gardens, just below the pool. This room is bathed in natural sunlight courtesy of two sets of sliding glass doors, one of which leads out to a stone terrace overlooking a manicured lawn and two very inviting hammocks. A king-size bed rests on a raised plinth beneath a stone frieze depicting tropical palm fronds and frangipani flowers, while two white leather easy chairs just beg to be sat upon and a large white wardrobe provides plenty of storage. A semi-open outdoor bathroom with monsoon shower and a bathtub invites guests to experience bathing under the sun and stars.
Guest bedroom 2
Guest bedroom 2 sits next to a garden of wild grasses and flowers, a little further along the garden pathway.  Sliding doors open onto a wooden deck, bringing the outdoors in. This room is furnished with a white-painted king-size bed and two dark wooden wardrobes. A large wooden lamp and an Indonesian totem sit alongside a zebra striped leather chair, while a huge image depicting a school of tropical fish reminds guests which country they are in. The bathroom features a sunken open-air tub with hand-held shower for more outdoor glory.
Guest bedroom 3
The villa's third guest bedroom lies at the very bottom of the garden, amidst a grove of juvenile palm trees. Two inviting lawn chairs rest on the terrace taking in this miniature forest setting while, inside, the room is dominated by a blonde-wood king-size bed, flanked by wicker lamps and heralded by a bird carving. Two similar coloured wardrobes provide storage, while more tantalising images of Indonesian island-life adorn the walls. The open-air bathroom is noteworthy for its water wall and cleverly designed, monsoon shower that looks as though it could be a time portal to another dimension.